The Painted Turtle Camp Rentals
A Unique Place for Your Next Retreat, Conference, Camp, or Event
Nestled in the pastoral tranquility of the Angeles National Forest, The Painted Turtle's stunning 173-acre site is the perfect venue for your next corporate, school, religious, or community experience. Designed by the same architectural firm that created the world-renowned Getty Center in Los Angeles, we have the capacity to offer a unique and memorable experience to groups from 10 to 2,500+. Our state-of-the-art facilities and wide-open spaces provide an inspiring environment in which to gather, and all site rental fees will help support The Painted Turtle's mission to provide transformative camp experiences to children with serious illnesses at no cost to their families.*
Our team will work with you to customize an experience to meet your needs. We cater to the following types of events:
Corporate Meetings, Conferences and Events
University and School Retreats and Workshops
Religious Organization Retreats and Camps
Sports and Outdoor Education Programs
Private and Community Events
Other Camps
We are located a short 1.5-hour drive from Los Angeles in the northeast corner of Los Angeles County in the town of Lake Hughes. Reeds, lakes, and meadows shape the camp's grounds, and manzanita-covered hillsides frame the southern border. Guests have access to a variety of indoor and outdoor spaces, overnight accommodations for 200+, and a host of onsite recreational and creative activities for team building, exploration, and pure enjoyment.
*Note that fees for site rental services do not qualify for tax deductions under The Painted Turtle's 501 © 3 status.
Meeting & Gathering Spaces
Dining Hall
Dining Hall Our multipurpose Dining Hall is located in the center of the property and can be used for meals, large group gatherings, workshops, and activities. A large state-of-the-art chef's kitchen is available as is a small private meeting or dining room just off the main Dining Room. There is an outdoor deck that overlooks the lake that is available for receptions and outdoor gatherings.
Size: 11,700 sq. ft
Capacity: 300 inside; 100 outside deck
Gymnasium and Activities Center
Our world-class gymnasium features a regulation-size basketball court with 6 hoops and grandstands (seats approx. 150) and a floor that was donated by the Los Angeles Lakers. Barn-like doors open with a view over the lake on one end and a sports field on the other. The gym can be utilized for meetings and events in addition to sports and recreation activities including basketball, rock climbing wall, relays & group activities. An adjacent game room is available for smaller group activities and a solar heated swimming pool is steps away.
Size: 14,700 sq. ft.
Capacity: 150 to 500
Outdoor Campfire Area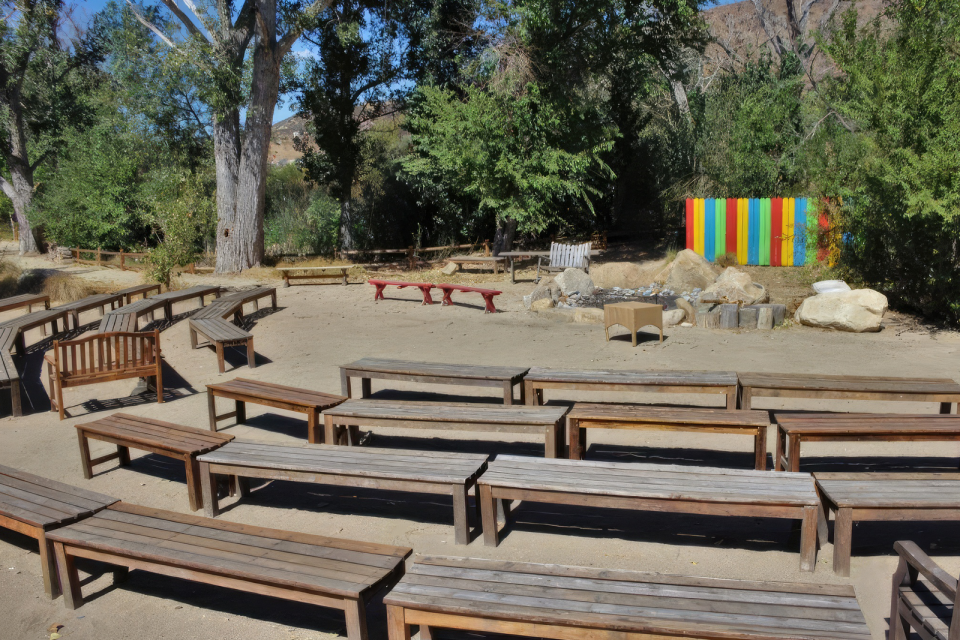 A rustic, outdoor campfire area is available for evening campfires under the stars.
Welcome Center and Lounge
The newest building on the property, our Welcome Center Lounge, is the right-sized gathering space for smaller groups and includes a comfortable meeting room, a kitchenette, a restroom, and a meditative area. The area serves as a welcoming entrance to Camp with direct access from the front parking lot. Covered porches are available on both sides of the building with the rear area available for outdoor picnics and dining.
Size: 500 sq. ft.
Capacity: 10-25
Multipurpose Rooms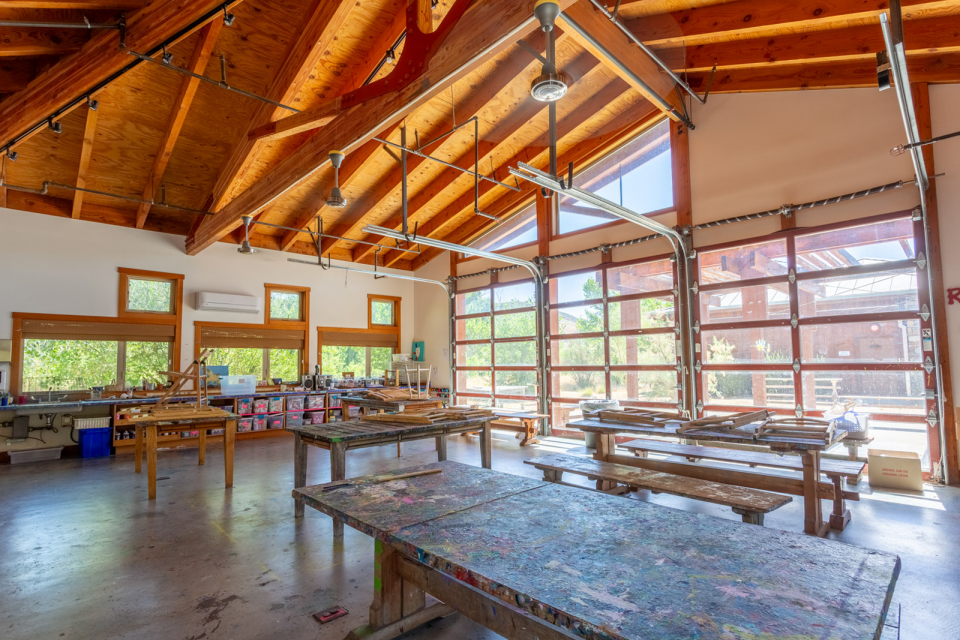 Two creative multipurpose rooms are available for small group meetings and workshops. Each room has a restroom and windowed garage-type doors that roll up onto a patio allowing guests to have immediate access to the outdoors.
Size: 1,200 sq. ft.
Capacity: 25-30
Lodging
Cabins
For overnight guests, fourteen cabins are available with capacity to accommodate 18-20 guests. Each cabin contains three bunk rooms where guests sleep under handmade quilts, a bathroom, a common area for games and gatherings, and a large, covered porch with handmade rocking chairs.
Motel Style Lodging
Our motel-style lodging offers 23 dorm rooms and 3 suites with kitchenettes. As with cabin lodging, guests sleep under handmade quilts and all rooms and suites have private baths.
Size and Capacity
Dorm Rooms: 175 sq. ft. (sleeps 1-2)
Suites: 600 sq. ft. (sleeps 2-4)
Sports and Recreational Activities
Your experience can be customized to take advantage of the many sports and recreational activities we have on-site including:
Athletics
Low and High Ropes Courses with zipline
Archery
Rock Climbing Wall
Outdoor Field Sports
Indoor Gym Sports
Equine Experiences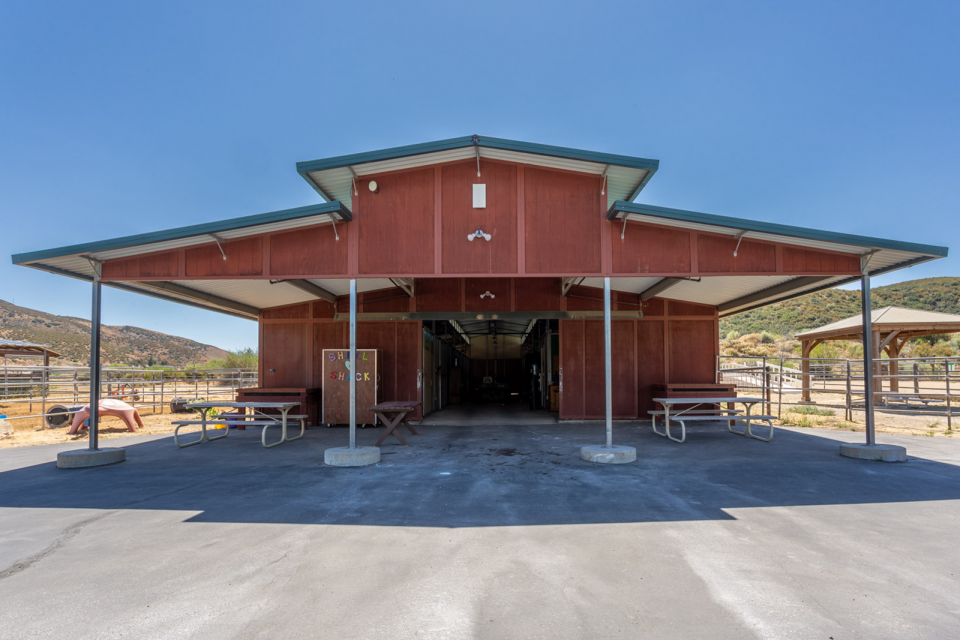 Our Equine Team will customize an engaging equine experience to meet your group's needs and objectives. Equine assisted experiences offer up close and personal interactions with our herd of six horses, group discussions and guidance from our Equine staff, and team-building and bonding activities.
Aquatics & Water Activities
Fun in the water is the primary goal of The Painted Turtle's aquatic and water activities. "Lake Wendy" provides a large waterfront area with opportunities for kayaking, paddleboarding and canoeing while our solar heated swimming pool can be used for individual and group swimming and pool activities. For those who like to fish, Paul's Fishing Hole provides a unique opportunity for "kiss and release" fishing experiences.
Additional Programming
Several additional activities are offered to take advantage of our unique location, beautiful facilities, and talented staff, including:
Hiking
Arts & Crafts
Woodshop
Dramatic Arts
Music
Filming
The Painted Turtle site is also available to studios and production companies for filming. For more information, please reach out to Jason Jones, filming location broker, https://www.keylocos.com/Other/17000-Lake-Hughes/
For More Information or to Schedule a Tour