Camp Springs Joy
Spring 2021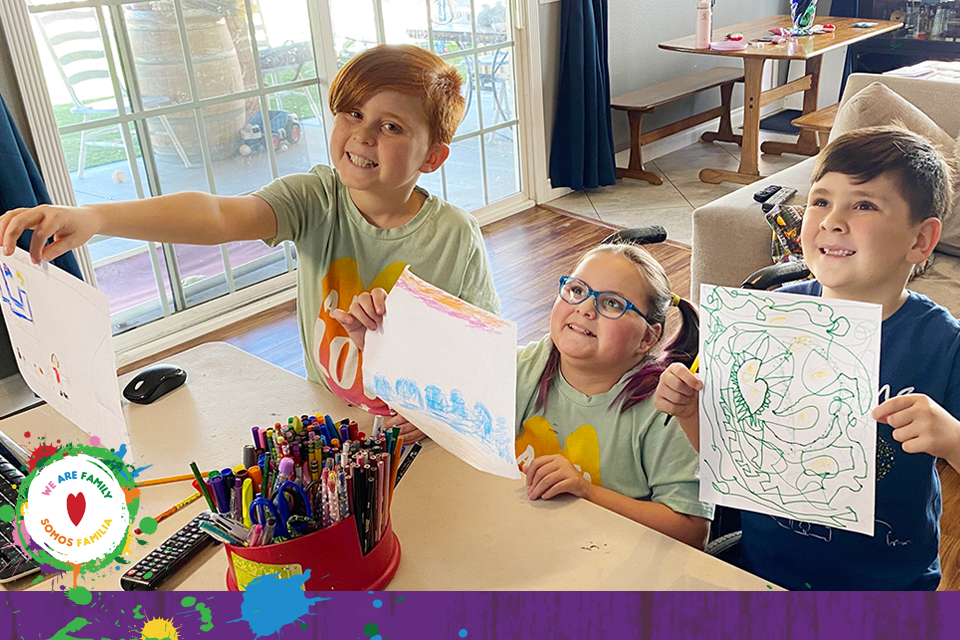 While many activities and outings are still a "no," we are grateful that Camp remains a "yes" for our campers and families.
This Spring, Camp programs bloomed with exciting and innovative online programs. We hosted two Family Days, two Family Weekends, seven Cabin Chats, and 17 virtual hospital playroom visits, serving a total 771 campers and their family members. In addition to these engaging programs and sent over 8,645 bedside activity bags to children staying in the hospital.
Camp at Home Family Days:
One of our newest program platforms, Camp at Home Family Days, brought 157 campers and their family members together for a day of online fun with fellow campers, Painted Turtle staff members, and volunteers. They participated in activities including arts and crafts, cooking, games, and lots of singing and dancing!
Not an ounce of magic was lost over Zoom. – Camper Parent
Camp at Home Family Weekends:
Modeled after our on-site Family Weekends, these three-day online events were designed for the whole family to join in the fun from Friday evening until Sunday afternoon. We hosted 251 campers diagnosed with Adrenoleukodystrophy (ALD) and their family members, and 137 children diagnosed with Pulmonary Hypertension and their family members. During the weekends they enjoyed activities such as scavenger hunts, Simon Says, arts and crafts, tie-dye mask making, game shows, cooking, fishing and archery from the couch, a glow stick party, and a virtual campfire complete with skits, songs, and dancing! The caregivers also had an opportunity to tune into sessions designed just for them, which covered medical research updates, future therapies, as well as a panel of inspiring stories of resilience and perseverance.
Cabin Chat Series:
Our Cabin Chat series proved to be a big success as 71 campers and siblings ages 6-18 connected with other Painted Turtle friends over a series of seven chats! Led by volunteers, these activities provided campers with a time to connect, reflect, learn about others and themselves, and of course, have fun!
One of our girls refused to say goodbye when we said goodnight individually to everyone every time! She always asked to go last, would get so sad when it was her turn, and said she hated saying goodbye. It was so sweet to see how special Camp is for her, even when it is just one hour on a school night in her own home on the laptop! – Cabin Chat Volunteer
Virtual Hospital Playroom Visits:
The Painted Turtle Outpost team has not missed a beat as they continue to deliver the magic of Camp to children who are currently in the hospital. Since the beginning of the year, Outpost has sent 8,645 bedside bags, full of Camp fun to hospitals throughout California and facilitated crafts, games, and stories to 128 campers through virtual playroom visits!
They have also created an amazing library of activities and stories on YouTube which anyone can access, anytime. One video has received over 40,000 views, check it out!
We are so grateful for all the families and campers who were able to join us this Spring. None of this would have been possible without the help of 66 amazing volunteers who put on their Camp gear and brought that magic to each program!