The Corral Family finds Community
In honor of Blood Disorder Awareness Month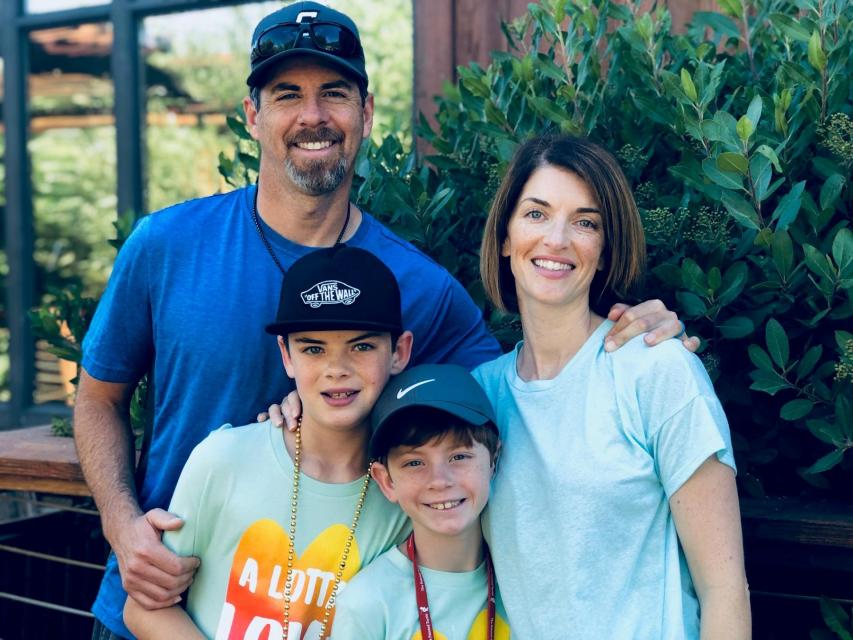 Our family story begins with God's blessing of two beautiful boys: two sweet, happy, athletic, crazy boys, both of whom have severe hemophilia A. We did not have a family history, so we were caught off guard when our oldest son, Jackson, was diagnosed at 6 months old. We were told he would never play sports, that his life would be limited, and that we would have to be so careful with him. Next came the months of fear, uncertainly and anxiety, and many ER trips. Finally, we had a port placed when he was 16 months old and were able to treat our sweet boy at home. He was able to walk and run without his padded helmet on. His body finally cleared from the terrible bruises that had become our norm. Life calmed a bit, and we were able to breathe and enjoy our son.
When Jackson was 19 months old, we (surprise!) found out we were expecting another child. As it turned out, it was another another beautiful son with severe hemophilia A. Is this the way I would have planned my life or my sons'? Definitely not. But I am so glad God has grander plans than we do! Jameson entered our lives and we can't fathom a day without him. He's more shy, but once he opens up he's the comedian in the family. He's creative, LOUD, and just so much fun.
My husband, Jose, and I are both able to infuse the boys, who now both have their ports out and are doing wonderful with vein infusions! Jose travels for work, so I am always close by in case they need me to rush over and infuse after events like a hip joint bleed or a shattered arm from falling off a slide. I'm always doing a quick tally in my head when I drop them off at school: "Okay, generally what is their factor level right now? Day one: infusion morning, 100% factor… Day two: non-infusion day, maybe 25%.. Yes, this is the day the worry is creeping up." But their school is wonderful and close to home, and we have amazing medicine to keep them healthy and active – just like any other 11 and 8 year olds!
Infusing every other morning and every time there's an injury or bleed doesn't give mom much of a break. I'm pretty much never "off-duty," mentally at least. The Painted Turtle gave us something I didn't think we would ever have until the boys were much older and self-sufficient on infusing. From the moment we arrived, we were greeted with the brightest smiles and most energetic group of camp counselors.
The environment is joyful, uplifting, clean, safe and very secure. I went in a bit apprehensive: I honestly didn't know if I was going to leave Jameson there - he's only 8! - but they make you feel so relaxed and confident that they understand hemophilia and have it handled. They also understand that kids need to feel like kids and be silly, have TONS of fun, and not worry about their condition. I couldn't believe how many amazing activities they had planned for the kids and how excited the counselors were to be there!
Our sons got to meet other kids who also have their same medical condition, which was huge for them. They don't know any other boys their age with hemophilia, this was a big motivator for me in encouraging them to go! They both tried self-infusing and now we are working toward Jackson doing more and more of his own infusions at home. I'm sure Jameson will follow along shortly, as he tends to do things sooner when he sees his brother's example.
When we came to pick them up on Sunday after FIVE nights away, the longest we have been apart since birth for either of them, they didn't want to leave! They both immediately told me they never got home sick, not once. This is a true testament to how wonderful this camp is. We are all looking forward to when we can return safely!