Epilepsy Fall Family Weekend
September 30 - October 2, 2022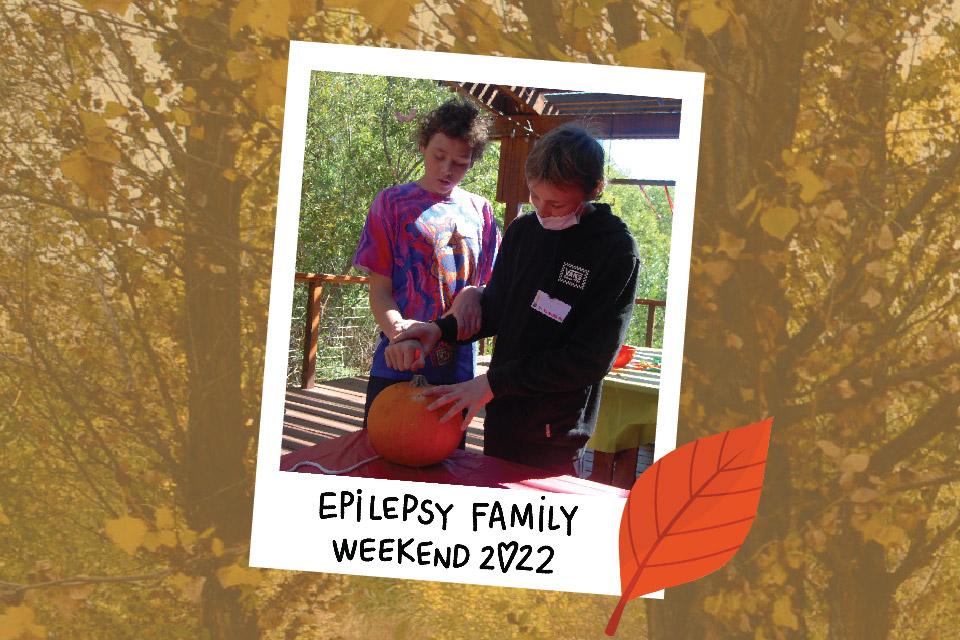 Fourteen families joined us for our first Fall Family Weekend where there were piles of colorful magic moments! We've raked in just a few for you to enjoy.
Compassion
Stage night is always chock full of special moments. One that stood out this weekend was a sibling who played guitar beautifully while singing. On the surface it was a solid stage night act, but as the performance went on it was made infinitely more powerful when his brother who has epilepsy began to cheer for him. Being a sibling, he is often in the background, as most of the attention goes to his brother who has a variety of special needs. This performance gave him his moment to shine while his brother beamed with pride, couldn't stop dancing, and yelled multiple times, "That's my brother!!" It was an incredible family moment shared with the whole Camp.
Courage
Our updated Ropes Course was a smash hit, with multiple campers experiencing the newest accessible elements which allow two new ways for campers who use wheelchairs to enjoy the thrill of the course.
Trust
Due to his medical condition, one camper was non-verbal, and was mainly interested in spending time in Arts and Crafts. After a few hours of painting rocks and spreading them around our rock gardens, the campers father approached one of our Arts and Crafts volunteers and said, "Our son hears and understands what is going on, and you can't tell, but I can see how happy he is here!"
Friendship
The magic started on the first night as families were arriving and settling into their cabins. Two teen campers from the same class in school saw each other and lit up. They had no idea the other was going to be there! They gave each other a big hug and proceeded to jump up and down with excitement. From that point on, the two were together the whole weekend, finagling schedules to make sure they could be at ropes and horses together. Now they have someone at school who they don't have to explain the magic of Camp to, because when you know, you know!
Community
On Saturday night during a Family Weekend, caregivers and parents have the opportunity to enjoy a quiet evening "get together" in the Dining Hall. Meanwhile, campers hang out with other campers and their family pals in the cabins, playing games and sharing laughs. This weekend is known to have slightly lower energy levels, and most of the 'cabin parties' become cabin sleepies- many of the kids chose to go to bed, but not Green 1! Green 1 had quite the party that could be heard all down cabin row. There was laughter, joy, and merriment while the rest of Camp was relaxing or sleeping- Camp will always have opportunities for every energy level!
Our volunteer team was the perfect combination of seasoned veterans and first timers who were both full of Camp energy to share! One of our long-time volunteers, Seth, brought his parents along to share the experience with them. It was fun to have the whole family experiencing Camp together and seeing his parents finally understand what Seth had been talking about all these years.
A big thank you to all the families and volunteers who came out to join us, and to the Epilepsy Foundation for making it possible!