Healing from the Heart
In Memory of Nurse Jay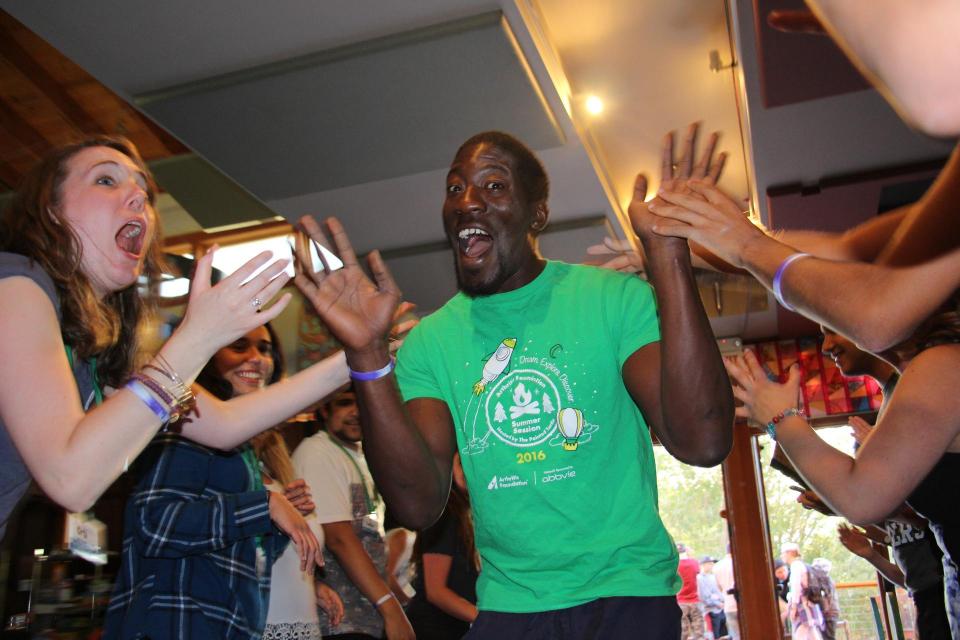 In memory of Nurse Jay Gilbert (Dec 27, 1988-Sept 10, 2021)
An amazing summer staff nurse who touched so many in his four summers at The Painted Turtle. His memory will live on with many campers, staff, and volunteers.
To learn more about Jay, you can read the below feature story from our 2018 Annual Report.
Interview with Nurse Jay Gilbert (2018 Annual Report):
Jay Gilbert loves being a nurse. Working at a middle school in Atlanta, Jay is known by students and colleagues as the Rapping Nurse. During the past four summers, Jay has brought his energy and enthusiasm to The Painted Turtle as a nurse volunteer, providing care, fun, and laughter to campers in the Well Shell. We sat down with Jay to learn what it is about Camp that keeps him coming back year after year.
What makes The Painted Turtle so special?
There's a lot of kids who look forward to coming to this Camp for that one week out of the year just to be loved and included and treated equally. Unfortunately, outside of Camp, everyone is not treated equally, but at Camp we're all the same. There's a young man who is a phenomenal pianist, phenomenal. And he's only fourteen. He's going to go out there and change the world. We had a young lady who wrote a book. She's on a breathing machine and she has a lot of complications, but she wrote a book about The Painted Turtle. There are so many kids that have so many great talents that are not normally seen because of their disabilities, but they know there are people here who really care about them. Camp does so much for them.
What's one of your favorite memories of camp?
There's a camper who had to get enemas last year. We wanted to keep him company and make it entertaining, so we got a bunch of wigs, and I and a few of the other volunteers made a song called "Poop, There It Is," and we performed it for him live. We played a bunch of music and had a great time! It was epic. We called it our 1st Annual Poop Party. I actually came back this year because of that camper. When he got out of the car and saw me, he started telling me how much he missed me and that he still had "poop parties" at home. That kind of made coming back all worthwhile, knowing he's OK.
What's one thing you wish others knew about children with serious medical conditions?
At the end of the day, we're all the same. Some people just take a little more time to do some things. Be patient with people—if I could express that to the world, I would. Just seeing these kids and what they go through it's like, "Wow, you go through a lot, you're really strong!" Don't judge a book by its cover.
" Be patient with people—if I could express that to the world, I would. " – Jay Gilbert, Nurse Volunteer