"I know what those smiles mean."
A camper with spina bifida reflects on the power of Camp.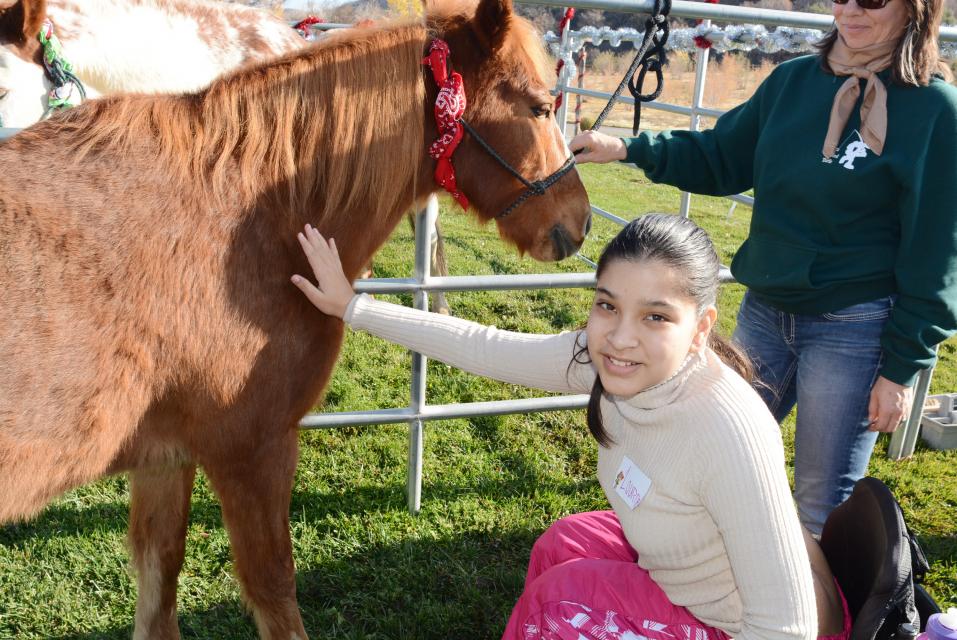 October is Spina Bifida Awareness Month! Spina bifida is a birth defect where the spine and spinal cord don't form properly, sometimes requiring surgery early in life. Individuals with spina bifida range from having minimal symptoms to severe physical disabilities that may require the use of assistive devices such as a wheelchair. We are honored to serve campers with spina bifida through our adaptive programming that allow them to participate in every activity at The Painted Turtle!
One of those exceptional campers is Lourdes. She was diagnosed with spina bifida before birth, during her mother's final ultrasound. On the day she was born, her spine and spinal cord were completely exposed. Though doctors were able to operate, the diagnosis left Lourdes essentially paralyzed from the waist down. She now gets around primarily using a wheelchair.
Lourdes has been coming to Camp for as long as she can remember – first to Family Weekends, and then eventually on her own during Summer Sessions. As she arrived to The Painted Turtle for the first time, she remembers feeling an immediate sense of comfort when she saw other campers using assistive devices, such as wheelchairs and walkers. "Okay, so it's really not just me!" she remembers thinking.
This feeling, Lourdes says, drew a stark contrast to her daily life at home. Because she has no cognitive concerns, Lourdes did not participate in the special education classes at her school growing up. However, that meant she was the only person in her "mainstreamed" class who was physically limited. During a field trip to another camp with her classmates, she felt isolated and left out. The camp ground had many steep hills, woodchip trails, and other physical challenges that prevented Lourdes from navigating independently. She wasn't able to participate in many of the activities with the rest of her peers.
Quite the opposite is true for Lourdes at The Painted Turtle! All activities are designed with kids just like her in mind. The pool has an entry slope accessible to swimmers in wheelchairs and other assistive devices, the ropes course has a pulley system to hoist campers up without the use of their legs, and there are no stairs to limit accessibility. It felt like a new world to Lourdes. "For once, I felt like I can do this – I got this! It gave me the confidence to try new things."
She has taken that confidence gained from Camp far beyond the time she has spent at The Painted Turtle. At school, she recalls, she was given the option to opt out of her P.E. credit due to her physical ability. She refused. Instead, she insisted on enrolling in a dance class for her credit: a hobby she felt was inspired by Stage Night at Camp, where she was empowered to take the spotlight and perform. For years, she has taken dance classes and attributes her willingness to try new things to the spirit she learned at The Painted Turtle.
"Camp was one of the first places I can say that I learned how to be comfortable in my own skin. It's where I truly learned to love playing the game with the cards I was dealt," says Lourdes.
Now, at 18 years old, Lourdes is embarking on her first year of college. During virtual Camp at Home sessions this past summer, she volunteered her time as a Leadership Camper where she developed skills to help mentor young campers who remind her a lot of herself. "I saw their smiles and I thought: I want to keep doing this. I was once that kid, discovering I can do anything after trying for the first time at Camp. I know that's what those smiles mean. I want to be someone that can bring that joy to younger children."
To Lourdes, the experience going to Camp has been foundational for so many other aspects of her life beyond the gate of The Painted Turtle. To folks considering going to Camp, she has some words of advice. "This place is going to give you the tools you'll need in your life. You'll realize your potential. You'll realize you can do so much more than what society tells you that you can. You might feel isolated in your normal life – here, you won't. You're going to feel like it's not just you… because it's not."