Kidney Disease & Transplant Fall Family Weekend
October 14-16, 2022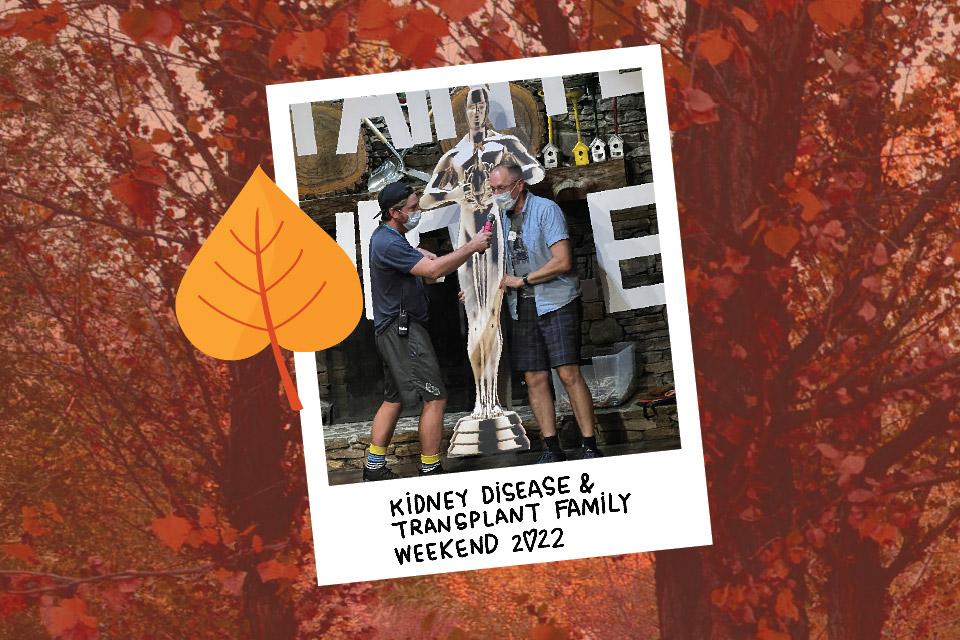 The 2022 Kidney Disease & Transplant Fall Family Weekend may have been small in numbers but it was mighty in magic as nine families blew into The Painted Turtle for some fall fun!
Connection
At The Painted Turtle it's not uncommon for folks to show support for each other, even when it comes to art!
At Caregiver Café, an evening activity for adults, the majority of the parents sat at the craft table the whole night, working on their fluid art paintings. One mom was not getting the desired effect for her piece, and her canvas often ended up being a nice tan. All of the other caregivers stayed at the table past closing time to cheer her on and provide support, and after painting four canvases, she finally made a piece of art she was proud of! Together they laughed at the comedy of the whole situation.
Vision
Given the weekend's theme of Hollywood, Saturday night's Stage Night, our version of an inclusive talent show, was "The Oscars" of course! In between acts, we recognized folks who had been doing incredible things throughout the weekend. Our first award was for Best Costume Design, and that went to a camper dad. He had never been to The Painted Turtle before, and when it was time to go to archery, he could not find his closed toed shoes. A shuttle brought him to the car, where he assumed he had left them, but they were not to be found. He went back to Green 4 to search for the shoes in the cabin again, and after a good 5 minutes, they still couldn't find the shoes. As it turns out they were not staying in Green 4 but in Green 3- they had been searching the wrong cabin the whole time! In the end, he borrowed volunteer Randy's shoes so he could follow the rules and get a chance to participate in archery.
Courage
The next award at "The Oscars" was given to another Dad- Best Animal Performance by a Non-Animal. If we made baseball-esque cards for our attendees, the stats for this dad would be 6'4", former member of the US Navy, former Lawyer, current Judge, etc etc… Clearly a no-nonsense guy who might not buy into all of The Painted Turtle silliness. That belief was quickly tossed out the window when he was seen on camera puppeteering a giraffe with a Yoda voice, a horse (who sounded very similar to Yoda as well,) and several other animals in a scene directed by his son. Needless to say he had us all in stitches!
Compassion
We might need to check on the Fishin' Pond soon, because we haven't been catching quite as many fish as we used to. Maybe they got used to fending for themselves while we weren't feeding them tons of hot dogs over the pandemic, or maybe they are still recovering from all the summer fun, but the campers have taken notice. The running theory from the kids is that fish are tired of hot dogs all day every day, so they started a petition with new bait ideas to get us to change the food offerings. If changes don't happen soon, the campers are thinking about going on strike! New bait ideas included pumpkin guts, gummy worms, and Liliana's sister, to name a few.
Joy
One family who joined us for the weekend came with a handful of kids, and one of the older teen siblings was not thrilled to be there upon arrival. She stayed seated for dancing and grumbled a little bit because of all the 'campiness.' But by Saturday afternoon, her whole demeanor changed. At one point, she grabbed the megaphone from the Camp Director's hand and started belting "I Want it That Way" by the Backstreet Boys, which then lead to an impromptu karaoke session that multiple kids joined! Later that night during teen hangout time, longtime volunteer Pun invited volunteers to share any meaningful words about the weekend. This same teen jumped in and asked if she could say something. The volunteers listened to an incredibly heartfelt message about how nervous she was coming to The Painted Turtle, but the positive vibes at The Painted Turtle were so different from anywhere else she had been. She shared that she felt so comfortable participating in Stage Night and all the other activities, and let her true self shine!
Community
This weekend we were excited to see many volunteers and staff return from this past summer! Board member Lisa Hernand and her daughter volunteered in arts and crafts and lent an enthusiastic hand to Stage Night! In addition to lots of familiar faces, we had one new volunteer, Tal, who jumped right in and did a stellar job. We are so grateful for everyone who came out to volunteer especially as the number of campers and families continues to increase!
We thank everyone who attended, volunteered, and supported this weekend and made all of these magic moments possible!