Meet Aaron Webb
The Unexpected Magic that Comes from Working at Camp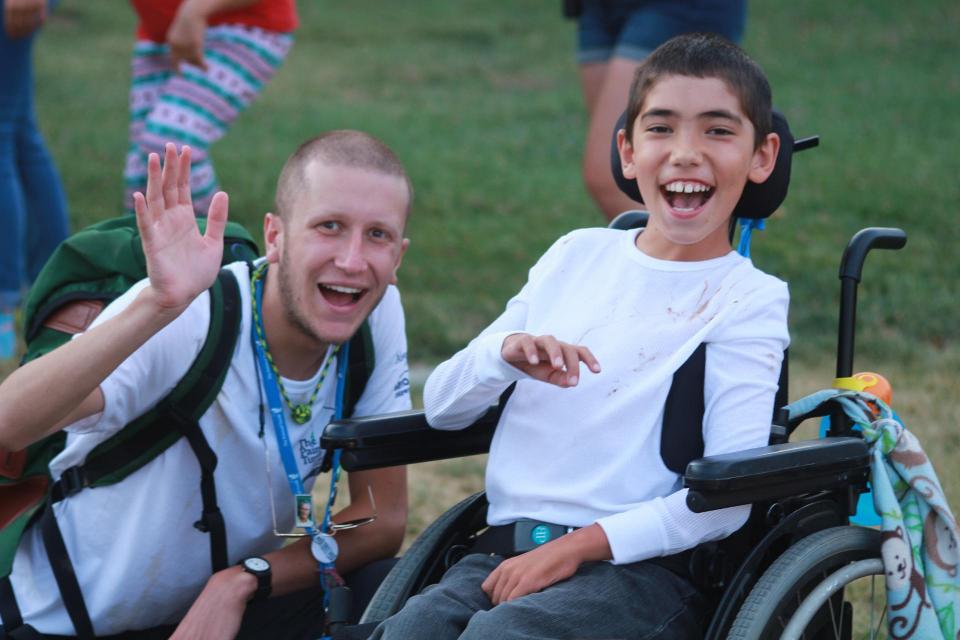 Hi, my name is Aaron. I was born in Chicago and grew up in Huntington, Indiana, a small rural community near Fort Wayne. I have spent my whole life in Indiana. I attended Wabash College as a philosophy major, and am currently a medical student at the Indiana School of Medicine in Indianapolis. My hope is to become a doctor and work with children.
How did you first learn about The Painted Turtle?
I heard about The Painted Turtle as an undergrad when I was attending Wabash College. I came to Wabash thinking I wanted to be pre-med, but I wasn't completely sure. I had an advisor who introduced me to the SeriousFun Network of camps. It was at a time when I was considering how I could gain more experience in the medical field and explore opportunities that were different than the typical clinical setting.
I was a Boy Scout growing up, so I spent time at summer camps and knew how much those camp experiences meant to me. I felt like working at The Painted Turtle would be a way to explore medicine and healthcare in a camp setting. I went online and looked at the network of camps, and something about The Painted Turtle just stuck out to me. Plus, California sounded like a lot of fun…something different.
I applied to The Painted Turtle during the spring of my freshman year, interviewed, and was hired as a cabin counselor for the summer of 2017. With the help of a few other counselors, I was responsible for a cabin of campers, roughly eight to ten kids. In the summer of 2018, I returned as a Bale Leader, which is a leadership position that oversees four cabins of campers and supervises the counselors and volunteers who manage them.
California is gorgeous to me. I love the mountains and an added benefit of working at The Painted Turtle was being able to enjoy different destinations during my time off. I could visit places like Santa Monica State Beach or drive to Kings Canyon in the Sierra Nevada. I was able to go up north and visit places like Bishop and Mammoth for more hiking and exploring. In Southern California, you can do pretty much anything, and exploring during your time off between sessions was a great way to recharge and get ready for the next group of campers!
What is the Summer Counselor experience like?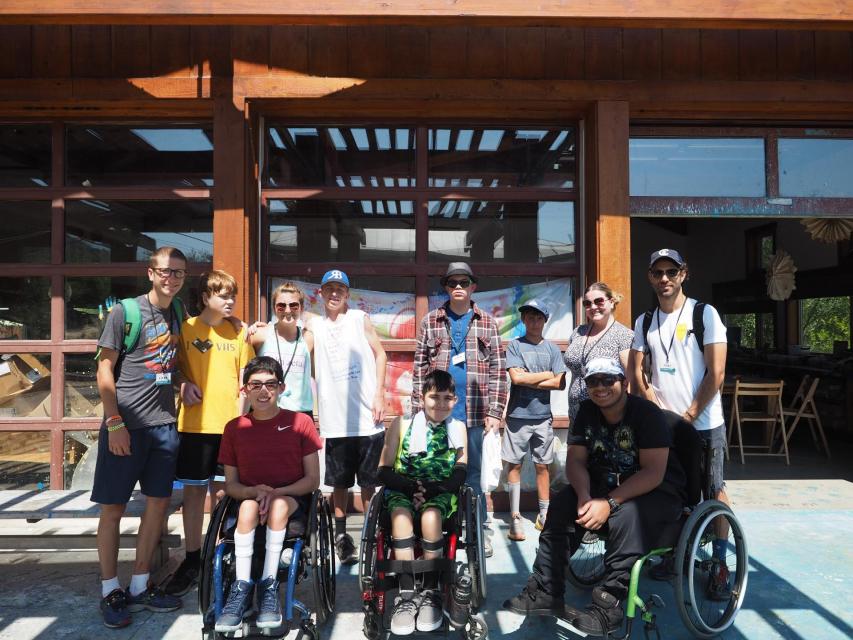 Being a summer counselor is an awesome experience. I got to hang out with a cabin of kids each session for a week and really get to know that group of kids. I found the counselor role rewarding and an opportunity to grow and see the bonds within a cabin. Some of the best moments at The Painted Turtle include seeing how connected the campers can be and how much they relate to each other. I think it's a real privilege and an honor to witness that and play a small role.
There are a variety of other roles at The Painted Turtle such as the activity counselors who run the different programs at The Painted Turtle like the Ropes Course, Arts and Crafts, waterfront, etc. These positions are great because you get to interact with a lot of different campers of all ages and have the freedom to create exciting activities for them that make their Painted Turtle experience so special. You are also assigned to a cabin of campers to support when you are not running your activity area.
Is there a magic moment from your time working at The Painted Turtle?
I have a whole menu to pick from, but I think of one especially when I'm having a tough day or when life gets hard. It was my first summer as a cabin counselor during the Special Diagnoses Session and we had one camper who used a wheelchair and communicated mostly through his facial expressions. We always knew how he was feeling as you could see it on his face. Most of the time, he would be beaming, the best smile you'll ever see. We always knew that he was having a good time.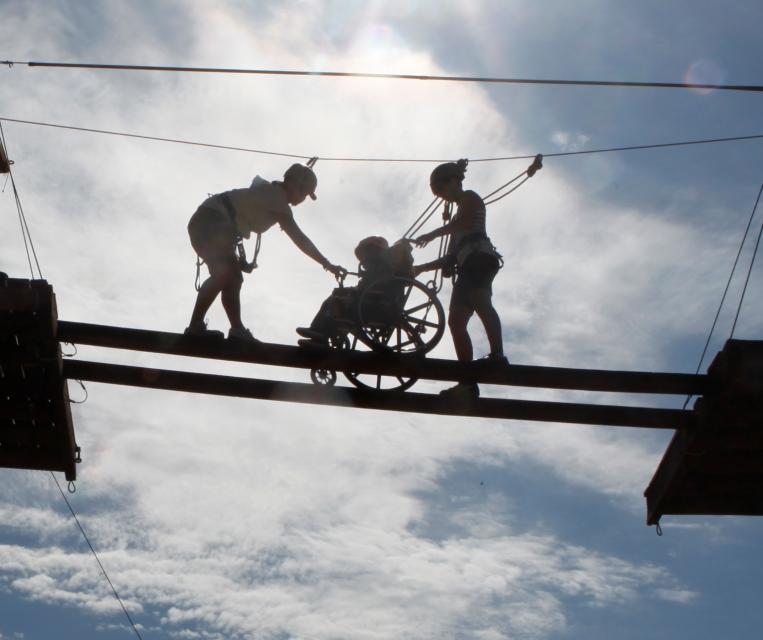 He eventually came around to the high ropes program rotation, and we were gearing up to get ready with campers putting on harnesses and helmets. This particular camper wanted to go up on the ropes course. So, the Adventure Team was getting him ready, getting his chair ready, and harnessing him up. You could slowly begin to tell from his face that he was getting a little nervous. His smile wasn't as bright, but he still seemed happy. You could see some signs of fear or trepidation building. But we got him rigged up and hoisted up to the top of the course and guided him over to the zip line. I was up there with him, which was really a cool experience to be able to work with a team and support them. We eventually got him ready for the zip line and you could tell he was more nervous and a little scared. But the second that he started going down the zip line, that beaming smile returned. I could see it from where I was, about 50 feet away, 30 feet high in the air.
Those moments stick with you. It meant a lot to him and seeing him overcome that fear and some of the trepidation he had on the course was very special. Something I'll always remember.
To see the pride and the empowerment right away, it's one of the greatest things about The Painted Turtle. The days can be hard as a counselor, and it can be emotional and even physically taxing, especially those weeks when you're doing a lot of transfers and supportive care. When you are in it, it's sometimes hard to tell if this work is worth it and paying off. You think to yourself, am I making a difference? But then moments like these, it's immediate and you just realize, yeah, this is powerful stuff!
How did Camp influence your medical aspirations?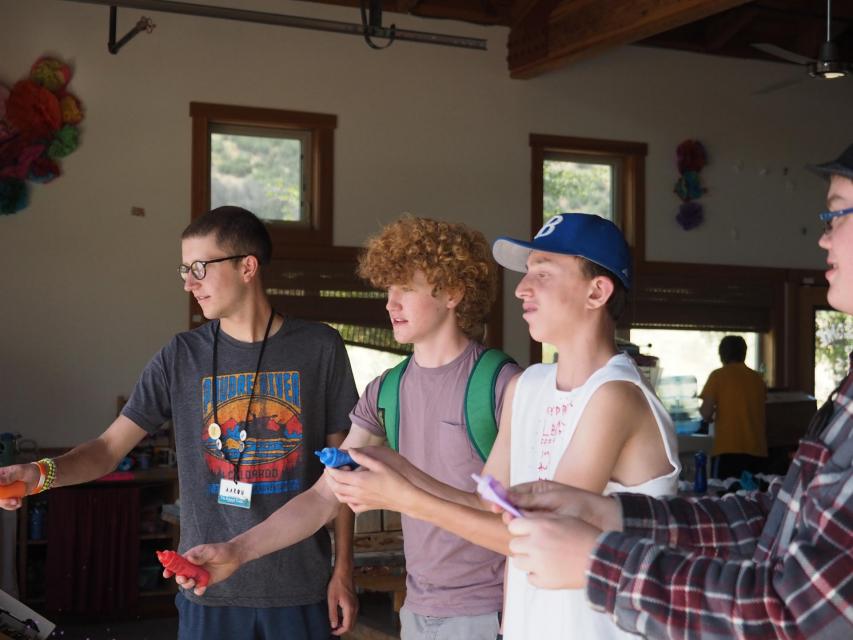 Knowing that I was exploring medicine and going into healthcare prior to working at The Painted Turtle, I was still a little unsure that first summer. However, I was really excited to learn and observe the role medicine plays in a non-clinical setting. Just being able to work with the medical staff and volunteers in the Well Shell, Camp's medical facility, showed me firsthand the gold standard for empathetic care. Not just how to care for the campers' medical conditions, but how to care for their emotional and physical needs as well. Most importantly they taught me how to view and support the campers beyond their illness. Working with the medical staff at The Painted Turtle left a distinct impression on how I want to practice medicine.
What would you tell someone who is interested in applying to be a Summer Counselor at The Painted Turtle?
It's an opportunity to be a part of something that's bigger than yourself, which I think draws on some of my background as a philosophy major. On a more practical level, you are expected to work on a team, to care for a group of campers, and you must be present for them, working collaboratively with your other counselors to provide a really awesome and joyous experience. I learned a lot about how to work on a team and how to communicate effectively, towards one common goal; providing campers with a great experience. You will learn things like when to step up and lead or when to take a step back and to listen to other people and their ideas. I see a lot of these skills coming through, not only when I was in undergrad, but also now in medical school. I think medicine is trying to move towards this more collaborative approach and working on a team and viewing the interface of care as team-based.
It is important to note that I wasn't always successful in my roles at The Painted Turtle. I definitely had moments where I had to take a step back and say, "okay, what could I have done better." Another thing that Camp is intentional about is challenging you to reflect on how you're feeling and check in not only with how you are doing within your role as a cabin counselor, but how you are doing as a person. The Painted Turtle recognizes that this is difficult work, but I always felt like Camp developed good habits for me to check in with myself, take care of myself, and understand when I may be working too hard, when I need a break, and how to communicate those feelings to other people so that they can help as well.
You can learn from a lecture or a textbook, but so many experiences and skills gained as a summer counselor can transfer into the classroom, the workplace, and beyond.
What was one situation at The Painted Turtle that taught you something about yourself?
Yes, during my second summer after one of the meals, we had a camper that needed to go get treatment over at the Well Shell. Most of the time kids understand that "oh, yeah, I need to go, this is when I usually do my treatment." They'll be cooperative and go with a counselor, and they'll get the treatments that they need. One time, we had a camper that was having a tough day. As a Bale Leader, I was close by and jumped in asking a counselor "hey, can I help?" The counselor shared that they were having a hard time getting him to go for his treatments, and we can't really let him go back to a program area unless he has it. So, I tried to help. I hung out with him for 25-30 minutes, we had nurses and counselors coming in trying to help as well.
He just wasn't responding. I really wanted to be the guy to help him turn the corner. I think that's natural for a lot of people at Camp. I really wanted to be the person that connects with him and gets him to take the treatment, but it wasn't working. It wasn't happening. So I called one of my PFDs (Personal Floatation Devices, AKA Behavior Specialist on Camp). She came in and right away, he said "yes, I'll take my medication." At that moment I realized, even if I want to be the guy, I have to check that impulse for the better. I wasn't helping him at all and the smart thing to do there was to take a step back and bring someone in that is a fresh face, and someone that maybe had different energy that he would respond to, and it worked out. He had a great week at Camp.
Were there any unexpected outcomes of working at The Painted Turtle?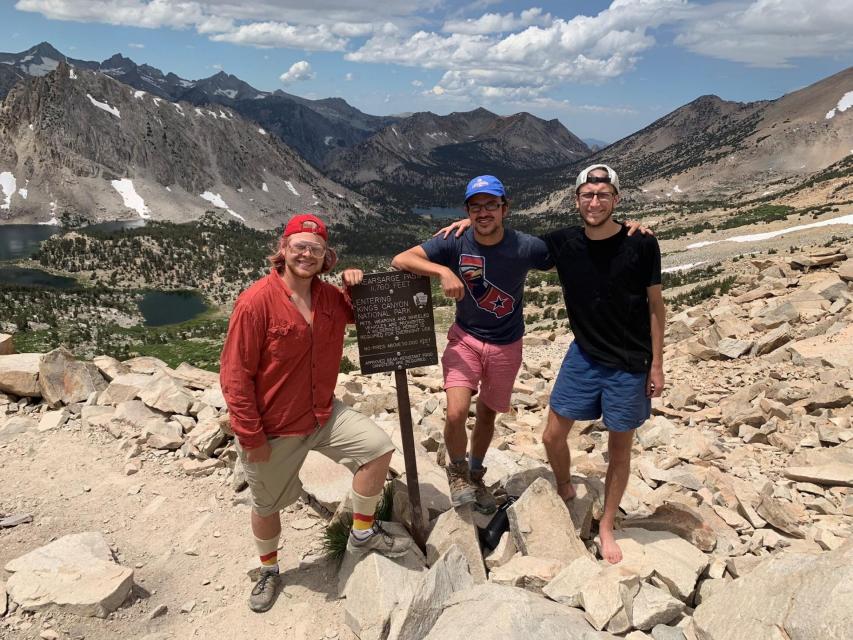 Absolutely. Going into The Painted Turtle you think we're going to sing campfire songs, we're going to shoot some bows and arrows, and it will be great. I'll have fun, act silly…then I'd come back to Indiana.
I didn't realize how many lessons in empathy I'd experience. I learned quickly that people aren't the labels that we give them. They're not just one thing, they're multifaceted. A lot of times you can understand things through context. To understand who a person is, you have to understand their story and how they view the world, and what their goals and dreams are. At The Painted Turtle, week after week, you get a chance to learn those lessons and meet new kids and learn about the different experiences that they've had. After Camp, I was much slower to judge. I think it's easy to look at what someone posts on social media and think this or that, but you quickly learn that that's never the case, right? That people have a lot of stuff going on in life. Life can be hard and challenging and difficult. It's better to be patient and curious when you're coming to those conclusions. A lot of times, they're not even good conclusions to come to, they're not productive, and they're not actually contributing to anything. Those are lessons that are hard to learn, but Camp is a really supportive place to experience these lessons.
You don't just learn it all at once, you learn it repeatedly during different situations. So, when I mess up, I can think back at my time at The Painted Turtle and I recall something concrete in my head that I can use going forward and strive towards being more inclusive.
Do you have a favorite icebreaker activity that you enjoyed doing with your cabin?
Probably Two Truths and a Lie. It's when someone shares three things about themselves with two being true and one being false. It's a lot of fun because the two truths you get to know real things about the camper and then you get to see their creative side when they come up with the thing that isn't true. It's an easy way to create a fun and silly environment.
Did you have a favorite camp song or dance?
I think my all-time favorite is Don't Stop Me Now. I love the song and the dance. It's like everything together. Then, of course, Ice Cream and Cake. That's a classic. I also like Chameleon a lot which was created by fellow Australian counselors.
What is a fun fact about you?
During my second summer, a counselor and I were outside the Well Shell for several hours for check-in/arrival and we were entertaining ourselves to pass the time, so we decided to start drinking five-gallon water jugs to see just how much we could drink. We actually finished one and a photo of us made it into Dr. Kathy's (Painted Turtle's onsite Physician) PowerPoint presentation in the section about staying hydrated!
[mage:1394]