Meet Pops and Sherry
The space campers hold in their hearts for Pops and Sherry is immeasurable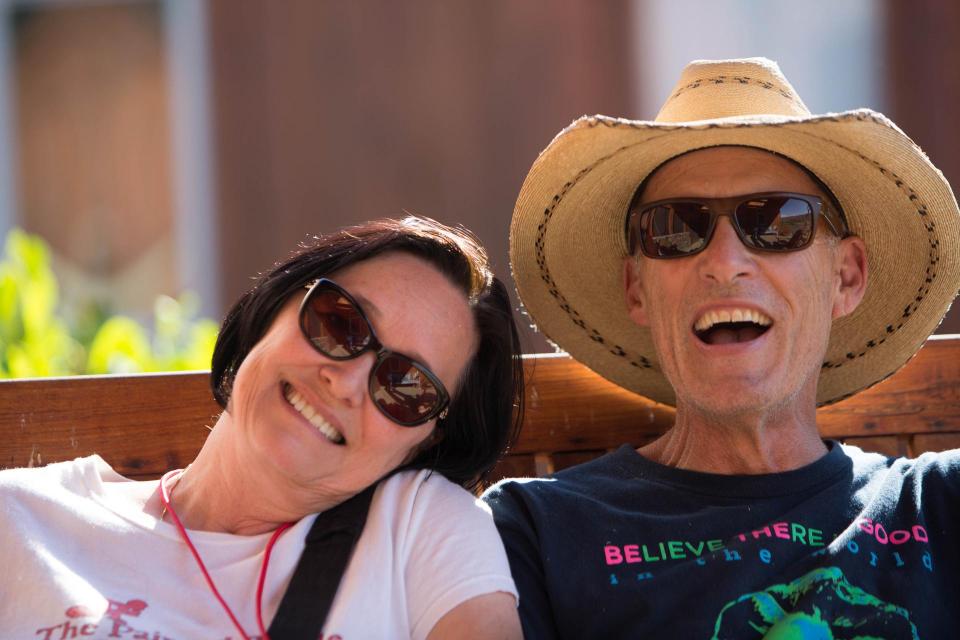 The Painted Turtle is fortunate to have the husband and wife dynamic duo of Pops and Sherry as dedicated and long-time volunteers. Residents of Lake Hughes, the same town as Camp, they both started volunteering in 2002 while Camp was under construction. They attended a tree planting event at Camp before The Painted Turtle even broke ground. On that day, they connected with the volunteer coordinator at the time, and that was the day that changed their lives forever. Each of them brings a unique skill set to Camp and they are beloved by all who meet them. Read more about their neverending contributions to Camp!
Meet Pops
At The Painted Turtle, Pops is essentially synonymous with the Camp experience for most campers because since the day Camp opened in Spring 2004, he's rarely missed a session. When campers and families arrive, often the first question is "where is Pops?" And for anyone who has ever interacted with him, it's clear why.
Pops can be spotted a mile away with his trademark hat, he fills a room with a welcoming presence, making everyone he interacts with feel like they have the spotlight. More importantly, any challenge-by-choice activity can be met with perseverance and success with his encouraging words and support every step of the way. And of all the thank you emails and notes we receive, you can guarantee that there is always a line or more acknowledging and thanking Pops!
I especially like the zip line and woodwork with Pops! —Camper
Woodshop is always a favorite spot on camp as campers harness their imagination and gain new skills of craftsmanship. The projects in Woodshop range in difficulty from a simple painting task to a more complex project of building something new from scratch. The credo of the Woodshop is that there is no project too ambitious: if you can visualize it, you can make it. As campers sand, hammer, nail, wood-burn, stain, paint and decorate, personal handcrafted projects will be the end result of their hard work and patience.
Through Pops' guidance and experienced engineer mind (retired from Northrop Grumman), campers are introduced to craftsmanship, collaborative learning, and team-based projects – skills that transcend their days at camp.
Neither Woodshop nor Camp would be what they are today without Pops. He's always fixing something onsite, building or making a new piece or Camp sign, and always working to keep Woodshop and all areas tidy and organized. And if he's not in Woodshop, he's on the Ropes Course, washing dishes in the kitchen, at a local school leading a volunteer project, participating in a skit at the opening campfire, leading a Camp song in the Dining Hall, helping MC a special event fundraiser, or just advocating for Camp every single day!
Meet Sherry
Sherry also quickly dove in and began volunteering in every form and fashion. She created instant bonds with camper families, was of immense help to staff, and was a natural family pal. Fast forward, and Sherry has volunteered for hundreds of sessions, volunteer days, or events. Sherry gives so much of her personal time to not just volunteering at Camp with campers and families, but helping on off days, doing side projects like turtle pillow stuffing, sending out birthday cards to campers, organizing the Arts & Craft closet and so much more. It's hard to keep track, but we are grateful every day.
One activity, passion, and skill set of her's that hasn't gone unnoticed and often rises to the top of her many contributions, is her role as a photographer. Sherry has a gift of taking incredible photos of Camp, making beautiful slideshows, and as one camper referred to her…
Sherry is a Memory Maker. - Camper
As the saying goes, a picture speaks a thousand words. Sherry, through her Camp photography, along with our summer Camp photographer that we hire, help us capture the joy, friendship, courage, independence, and strength of every person that steps through our gates. Photos are used for our website, collateral material, Camp slideshows, presentations, events, videos, grant proposals and reports…you name it. And although we could write all day about the life-changing gift of Camp, sometimes, photos and videos can convey on the highest levels, the transformation that Camp brings to children with serious illnesses.
An honor that Sherry truly relished was being nominated by Delta Zeta Sorority President Diana Stecher in 2014 as a DZ Alumni of XI Omicron Chapter Loyola Marymount University. She was initiated on July 11, 2014 at the DZ National Convention in Tucson, AZ. It was a day she'll never forgot. This is a very proud accomplishment and she takes pictures with the DZ's every session.
In 2019 Delta Zeta Sorority made a contribution to endow our Photography & Videography Fund in honor of Sherry. Memory making will be an enduring part of our impact we bring Campers and their families thanks to Sherry.