Un dúo dinámico de padre e hija
Conoce a Jesús y a Charlie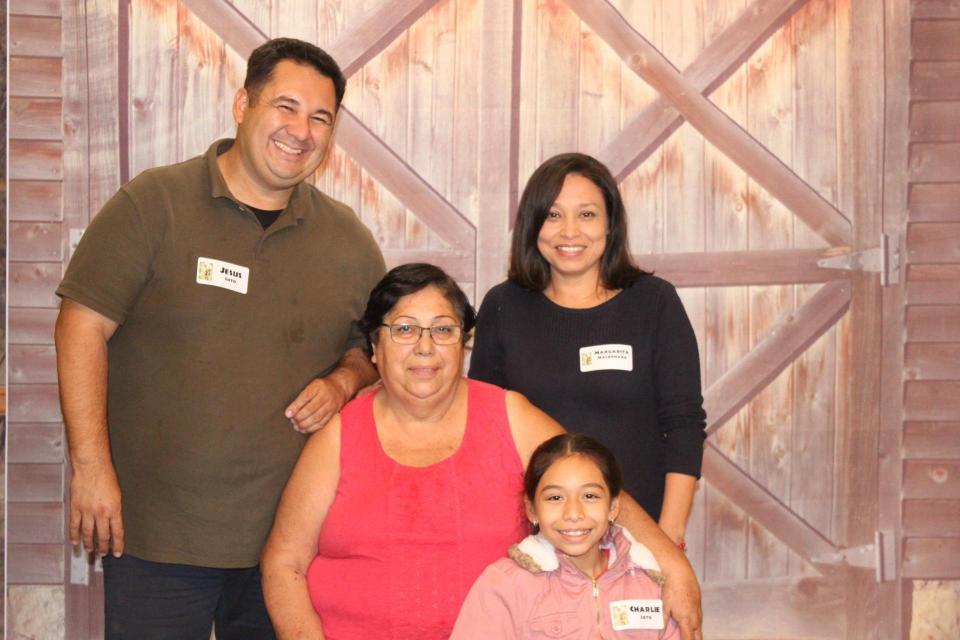 El mes pasado tuvimos la oportunidad de conectarnos virtualmente con Charlie, una campista, y su papá Jesús. Son un dúo bilingüe de padre e hija que llegaron por primera vez a The Painted Turtle en el otoño de 2019 para el Campamento para Familias (un programa de fin de semana para familias de habla hispana). Fue evidente al observar su tiempo juntos en el Campamento y a lo largo de nuestra entrevista que su relación amorosa y jovial es especial, una que ha crecido con su asistencia y participación en el Campamento.
Para tener una idea de su relación, Jesús dice que "Charlie tiene 12 años que van a ser 32″, y como Charlie comparte, "ella es ampliamente conocida en el Campamento por sus bromas y sentido del humor".
Charlie es una activa alumna de 7º curso a la que se le diagnosticó artritis juvenil hace unos siete años, tras caerse y lesionarse la muñeca. Desde entonces, Charlie ha experimentado diferentes tratamientos para aliviar su dolor y controlar su enfermedad. Sigue un régimen de infusión que la lleva al médico una vez al mes. A pesar de todo, Charlie sigue prosperando.
Durante una revisión periódica con el Dr. Ramanathan, el reumatólogo de Charlie del Miller Children's Hospital, se enteraron de la existencia de The Painted Turtle. Charlie se entusiasmó al instante con la idea de asistir. Jesús, por su parte, estaba un poco indeciso, pero no tardó en llegar a su primera sesión en The Painted Turtle para convencer a ambos.
"El campamento me ha impactado para bien. Me ha dado más control sobre cómo me siento con respecto a mi artritis. Me ha dado mucha más confianza para ir por el mundo, sabiendo que tengo artritis y que no pasa nada. Soy como cualquier otra persona que va por la calle. Y con mi padre, nos unió más, en el sentido de que puede decir: 'estás bien, te veo bailar'". - Charlie, campista
In response, Jesus shares, "She is cool about having arthritis and not letting it limit her activity so she can still be a kid. She doesn't like to show when she's struggling and when she is feeling down, but we can see it. Whatever is happening is affecting her, but Camp reminds us we're supported."
Their first trip to The Painted Turtle was a memorable one. They had prepared all week. On the Friday of the session, they had to leave in rush hour traffic because Jesus had to work, but they ventured up through the hills in the dark to the campsite. They were so happy to arrive, but when they got to the front gate, their name was not on the family list. It turned out, they were two weeks early for Campamento and were at a totally different session. "But we were at The Painted Turtle and the staff welcomed us with open arms and even gave us our own cabin. We were just so amazed and surprised that we could stay. It worked out beautifully and was a great experience," says Jesus. "We didn't feel like we were not invited or at the wrong session. We came back two weeks later for the actual Campamento para Families and were able to provide feedback about our Camp experience from the English and Spanish perspectives."
Charlie had never been to a camp before and had never met a peer with juvenile arthritis or another serious illness, so The Painted Turtle was beyond her expectations. She shares, "the minute I got there, I fell in love with Pops and PUN (longtime volunteers). I loved dancing and the spirit everyone had. I felt more in tune my second time attending and my grandma who joined really enjoyed being around Spanish-speaking families. I was able to show a whole new side of myself and told jokes at Stage Night."
There was no, 'Charlie, please sit aside.' There was no, 'don't do that, don't do this.' That's something that I absolutely love about Camp. They treated me normally. And I didn't limit myself to do anything." – Charlie
Jesus shares, "The whole aura of The Painted Turtle was very supportive and inclusive. All of these kids got to be regular, normal kids. And the parent discussions were eye-opening. I didn't know what to expect, but I got so much out of them and realized how much I could contribute as a teacher and having the experience to speak to school support for children with a serious illness and things like a 504 plan, a plan to ensure that a child who has a disability receives accommodations that will ensure their academic success and access to the learning environment."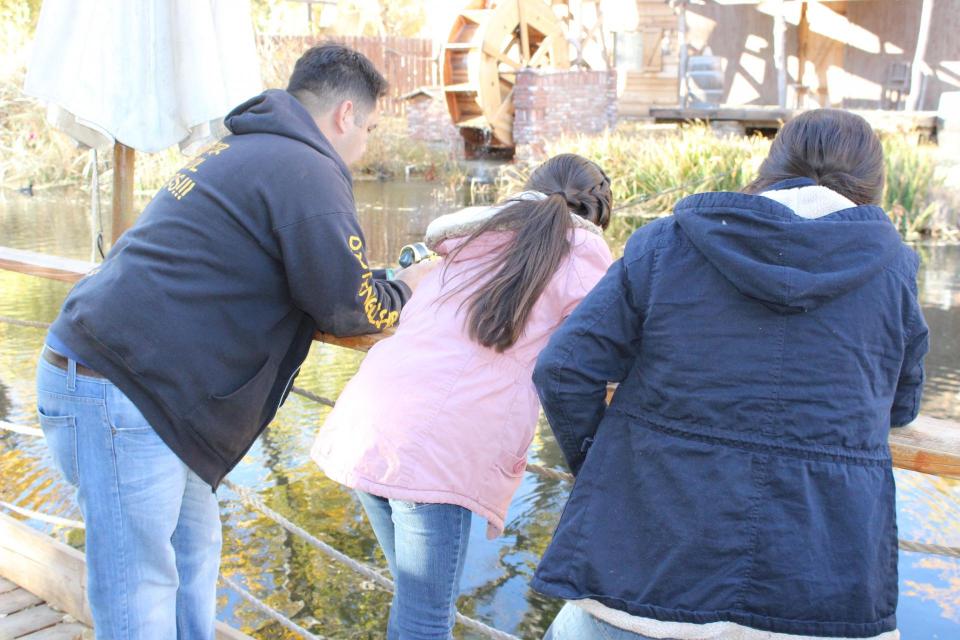 Charlie and Jesus did everything together during their first first session. That weekend was Charlie's time and Jesus cheered her on at the ropes course and at every program area. She was able to tell her family where to go and what time, including an early rise at 7:40 am for horses.
"My dad and I connected during arts and crafts and woodshop which was great. He made me a frame that says 'Charlie's World" and I have it in my room this very moment." – Charlie
It's evident that the bond between Charlie and Jesus is strong and that The Painted Turtle holds a special place in their hearts. It was shared that if Charlie could be more confident, Camp allowed her to be more confident. She's at 101 confidence level…" maybe even breaking the record," says Charlie. All jokes aside, this dynamic father and daughter duo calls The Painted Turtle a blessing. Take it from Charlie, "if you are thinking about attending, don't give it a second thought. Come to The Painted Turtle immediately. You won't regret it. It's the best thing you could ever do and you'll make long-lasting friendships that can last a lifetime. Everyone's really supportive, so don't be afraid to put yourself out there."
Happy Father's Day to Jesus and all the loving, supportive, outgoing, and encouraging dads out there!
FUN FACTS ABOUT CHARLIE AND JESUS:
Charlie: The best way to cheer Charlie up is with Boba, her favorite Camp dance is Ice Cream and Cake (Jesus wakes her up for school with this song), she loves to crochet and garden, she just started playing the trumpet, and she wants to be a businesswoman and future landlord in Los Angeles. What a go-getter!
Jesus: His favorite Camp dance is 500 Miles (the song became cooler at Camp)