Summer Staff Positions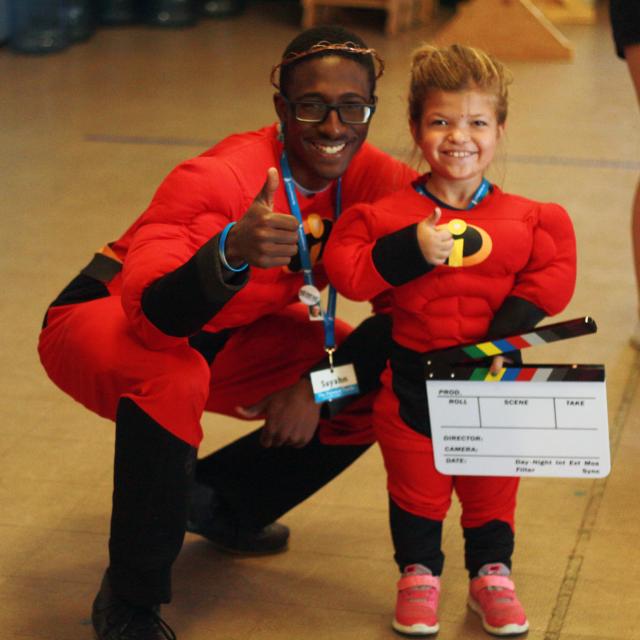 We have many different Summer Staff opportunities for compassionate people of all talents! We encourage you to browse the position descriptions and qualifications.
Positions are paid and include housing for the duration of the summer and meals while camp is in session. Most positions start in late May or early June. Waterfront, Entertainment, Adventure and Leadership positions will start earlier to allow for training. All positions are required to live on camp. Cabin Counselors live in cabins, and all Activity Counselors live in a dormitory style Staff Housing building.
Medical positions are also available for medical professionals licensed in California. To read more about these positions, please visit our section for Medical Professionals.
Counselor Positions
Cabin Counselor
Cabin Counselors work together with a team to lead assigned cabins throughout all summer sessions. Counselors live in cabins with 8-10 campers and 4-5 other counselors. Cabin counselors work with children ages 7-16. They are responsible for:
Supporting and encouraging each child to participate fully in all aspects of camp, allowing campers to gain maximum benefit from their experience
Maintain a positive cabin environment by encouraging group cohesion and self-esteem
Orienting and integrating new volunteers into our staff team each week
Qualifications
Must have the physical and mental capability of caring for campers
Confidence in attending to the daily needs of children
Comfortable working as a team to ensure the safety and welfare of the children under their care
Compassionate, kind, and sympathetic
Activity Counselor
Activity Counselors design, plan, and facilitate intentional programs in one or more of the following activity areas:
Woodshop
Arts and Crafts
Adventure: High Ropes and Rock Climbing
Creative Arts: Theatre
Discovery: Science, Nature, and Cooking
Entertainment
Music: Camp Musician
Photography: Camp Photographer
Waterfront Team: Boating, Fishing, and Pool. Certified lifeguards are eligible for this team.
Activity Counselors are expected to execute engaging, inclusive programming that is age-appropriate, safe, and fun. Activity Counselors have the following responsibilities:
Run All-Camp activities such as Stage Night, Campfire, Carnival, and other group activities.
Work with a specific cabin when they are not running program areas or All Camp activities.
Orient and integrate new volunteers into our staff team each week.
Each area has an assigned Program Leader, a counselor with the additional responsibilities of managing the program budget, ordering supplies, and overseeing program planning and execution in collaboration with their co-program counselor.
Experience teaching or coaching children in a specialty program area is preferred.
Entertainment Team
The Entertainment Team oversees creating, setting up, and leading All Camp activities. Entertainment also:
Executes a creative vision with the goal of entertaining up to 120 campers while ensuring safety standards are upheld
Hosting events such as campfires, dances, carnivals, banquets, camp games, and leading Dining Hall entertainment (announcements and songs).
Qualifications:
Experience in planning group special events or activities preferred
Ability to sing or play music is also a plus.
Should be comfortable speaking and performing in front of a crowd
Enthusiastic ambassadors of camp spirit!
Camp Musician
The Camp Musician plays a vital role in filling the musical needs of the Camp. Responsibilities include:
Working closely with the Entertainment Team
Playing guitar or keyboards
Singing at campfires
Acting as DJ at camp dances
Providing musical assistance for talent show performances
Playing music and camp songs at meal times
Creating and leading music workshops for campers
The Camp Musician is also assigned to a cabin when not playing music.
Qualifications
Ability to play guitar and/or keyboards in a wide variety of musical styles
Singing a plus!
Candidates with experience performing and leading songs in large groups preferred.
Camp Photographer
The Camp Photographer captures the magic and spirit of each camp session. Photographs will be used in a variety of ways, which may include a slide show, camper newsletter, website scrap book, and promotional materials for The Painted Turtle. Responsibilities include:
Photographing all camp events
Creating a slideshow for each session
Working with Communications team at Santa Monica office to pass along photos
May also lead photography workshops for campers.
The Camp Photographer will be assigned to a cabin to assist when not taking pictures.
Qualifications
Experience in photography (photographing children a plus)
Creative ability to assemble photographs and videos into engaging slideshows.
Video experience a plus.
Cabin Life Leadership Positions
PFD (Personal Flotation Device or Floating Counselor)
The PFD is a leadership role for an individual who has exceptional skills working with children with special physical, emotional, or behavioral needs. The PFD:
Is assigned to a specific group of cabins to offer additional support
Acts as part of our cabin teams and will provide all children in their cabin unit a safe and fun experience, with special focus on campers with more individual needs
Works closely with the Bale (Unit) Leaders to communicate about behavioral needs of their cabin groups and oversee the bale
Qualifications:
Physical and mental capability of caring for campers with special challenges and confidence in attending to the daily needs of children
Ability to maintain a positive cabin environment and skills in encouraging group cohesion and self-esteem
Effectively supervise staff and volunteers, including conflict resolution skills.
Bale Leader (Unit Leader)
At The Painted Turtle, a group of cabins is called a bale, which is a group of turtles! Bale Leaders serve as the leader for the campers, volunteers, and staff in their bale. Responsibilities include:
Ensuring a safe, happy, and memorable camping experience
Overseeing the operations of 4 cabins (32-40 campers and 16 staff)
Overseeing childcare
Managing behavior issues
Volunteer/staff supervision and unit coordination
Planning special unit events
Qualifications
Strong problem-solving and conflict resolution skills
Ability to supervise and evaluate staff and volunteers
Physical and mental capability to oversee the care and operations of 4 cabins.
Ability to observe and assess the appropriateness of camper behavior
Comfortable enforcing appropriate safety regulations, emergency procedures, and behavior-management techniques as necessary
Previous resident camping experience preferred
Leadership Associate
The Leadership Associate oversees the Leadership Programs for young adults who aspire to develop their leadership skills. To read more specific details about the Leadership programs, click here.
The Leadership Associate will be responsible for:
Interviewing and selecting Leadership Program participants
Designing leadership activities
Supervising staff
Assigning participants to appropriate cabin and program experiences.
Qualifications
Must be a team player with excellent skills in communication, administration and organization, and conflict resolution
Experience working with teenagers and knowledge of the camp environment is preferred
Past experience with leadership programs a plus
Experience in coaching and/or personal management preferred
Dietary Specialist
The Dietary Specialist works closely with counselors, medical staff, and our kitchen staff to provide safe and wonderful meals for our campers with dietary needs.
Dietary Specialist also:
Communicate with parents to plan and ensure campers get the nutrients they need.
Plan activities based around food and healthy living.
Qualifications
Strong interest in nutrition or a dietitian student
Basic knowledge of special diets
Apply
If this sounds like the job for you, please apply online. Though we accept applications on a rolling basis and begin reviewing applications for our next Summer season in January.
INTERESTED IN VOLUNTEERING?
Volunteering is a great way to get involved in the program and learn more about The Painted Turtle. For more information, see Camp Volunteer Opportunities.