Volunteer FAQs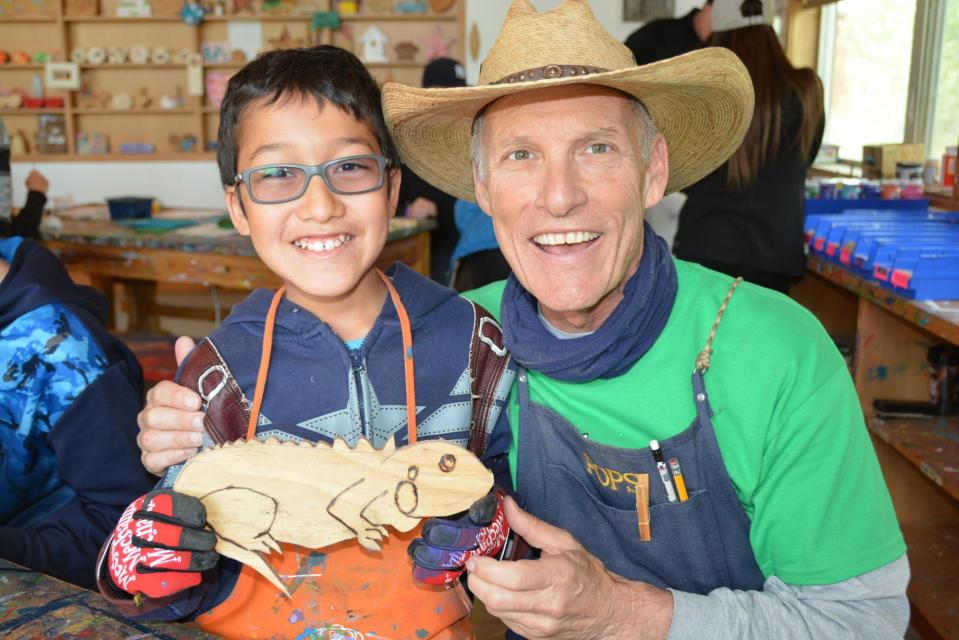 The Painted Turtle relies on the generosity of hundreds of volunteers every year to accomplish our mission. There are lots of ways to get involved whether you join us for a week as a cabin counselor, a weekend as a family pal, or for one of our day events we are thrilled to have you! Click here for all the ways to join the fun.
Are you accepting applications for 2023?
Yes! We are accepting applications for volunteers for both virtual and in-person opportunities. Please make sure to read over the details and eligibility requirements before applying. We recommend applying to your desired session as far in advance as possible.
What does a volunteer do during a Family Weekend?
There are two positions available during a family weekend, Family Pal and Program Pal.
Family Pals are assigned to one or two families and act as their host at camp! Family pals offer friendship, encouragement, support, and an extra set of hands. Most of all, they help families to get into the camp spirit by making new friends, letting loose, and experiencing all camp has to offer. Program Pals are assigned to run a specific program area, such as Woodshop, Arts and Crafts, Fishing and Boating, the Pool (Certified Lifeguards only) or the Ropes Course. As a Program Pal, you facilitate the fun and safety during program activity sessions. Program Pals are also assigned to a family to offer support during meal-times and evening activities.
What does a volunteer do during a Summer Session?
Volunteer Cabin Counselors jump into one of our cabin teams for a 6-7 day commitment during a summer camp session. Volunteer cabin staff supervise, care for, and cheer on campers throughout their time at camp. They encourage friendships and teamwork within the cabin, role model positivity and camp spirit, and help campers to get the absolute most out of their camp experience. Our medical team provides any needed medical support so counselors can focus on engaging campers in the fun of camp activities. Volunteer Cabin Counselors live in the cabins with 6-8 campers and 4-6 other adult counselors. As a volunteer, you'll contribute to a team-oriented experience of leading your cabin, planning activities, and creating a lifetime of unforgettable memories for your campers.
Are there any restrictions volunteers should be aware of?
Volunteer positions are contingent upon successful completion of a phone interview, positive references, criminal background check, sex offender registry check, and completion of all medical forms and requirements.
Camp days are long and volunteers have limited time off during their camp session, which is to be spent on-site. Except for scheduled time off, all volunteers are considered "on duty" 24 hours a day. We must be able to count on you to help us as needed, so volunteers are not allowed to leave camp at any time during the session.
Are there some camp policies volunteers should be aware of before applying?
Tobacco, alcohol, and drug use are strictly prohibited on camp grounds.
The Painted Turtle has a zero tolerance policy for inappropriate conduct with children and does not allow any isolated one-on-one interactions between staff/volunteers and campers.
Do you allow groups to volunteer together at camp?
The Painted Turtle has friendships with many types of groups, schools and organizations who send us multiple volunteers each year. Please keep in mind however, that each volunteer must complete the entire application and paperwork process individually. Due to the high volume of applicants we receive each season, we generally limit the size of groups to 5-8 persons per session. Please have someone from your group contact our Volunteer Coordinator, megano@thepaintedturtle.org and provide the names of each individual applying.
Are there volunteer opportunities for individuals under 19 years of age?
Our campers range in age from 7-17, and as such we must ensure that all volunteers during Family Weekend and Summer Sessions are at least 19 years of age. However, there are a number of other ways to get involved and support The Painted Turtle. Read more about how those under the age of 19 can get involved. Under 19? Here's how you can help!
Can I volunteer just for a day of a weekend or summer session?
Unfortunately because of the nature of our work, volunteers must be able to commit for the full duration of a family weekend or summer session. Occasionally we have one day events during the spring or fall seasons which can be found on our current camp calendar.
How many sessions can I volunteer for?
Due to the large volume of applicants to our volunteer program, we generally limit volunteers to 1 or 2 sessions per season.
Can I pick the session that I want to volunteer for?
If accepted, we will do our best to place you in one of your preferred sessions. If a session is already full, you may select any of the other available summer sessions or ask us to place you on a waiting list.
When do you start accepting applications for summer sessions?
We will begin processing applications for summer volunteers mid-January.
When is the deadline to apply to volunteer for a summer session?
We do not have an official deadline, but due to the high volume of applications we receive for a limited number of volunteer positions, we strongly encourage you to apply as soon as possible! We prioritize applications by date, so it is beneficial for you to apply early.
I have already completed the online application, now what?
Once we have reviewed your application we will contact you with information about the next step in the process.
I applied online a few weeks ago and haven't heard back yet, what's going on?
Thanks for asking! During our busy seasons, it may take us a bit of time to get back to you due to a high volume of applications. Rest assured however, that we are working diligently to contact you as soon as possible! If you haven't heard back to us within two weeks of submitting your application, please contact the Volunteer Coordinator, Megan O'Meara at megano@thepaintedturtle.org.
I have volunteered at another SeriousFun Children's Network camp, can my medical and volunteer paperwork from another SeriousFun camp be used at The Painted Turtle?
You are welcome to submit medical paperwork from another SeriousFun camp to The Painted Turtle, but please be aware that there may be requirements that are not met by the paperwork from another camp. We will work with you individually to determine which requirements your paperwork fulfills and which requirements you would still need to complete.
Where do volunteers live at camp?
During the family weekends volunteers stay in our staff housing rooms with one or two other volunteers. During the summer sessions, volunteer Cabin Counselors live in the cabins with the campers and co-counselors for the duration of the session.
If I need to fly in from elsewhere, can you pick me up at the airport?
The Painted Turtle provides free airport transportation to and from LAX (Los Angeles International Airport) during specific times for each session. Volunteers are expected to cover their travel costs to and from camp with the exception of this free shuttle provided by The Painted Turtle.
I have a dietary restriction; can you accommodate my needs while I am volunteering at camp?
The Painted Turtle offers a variety of foods at every meal and we do our best to accommodate volunteer dietary restrictions. Speak to the Volunteer Coordinator directly about your needs and be sure to mark it on the appropriate forms.
I am a returning volunteer, what do I need to do to come back to camp?
If you have previously volunteered with us, you will need to submit an annual online application. Sign in using your username and password. You should notice that as a returning applicant, most of your personal information will be carried over from your previous application. We do ask that you carefully review all of that information, making any corrections or adjustments as necessary. Please note that you are not required to submit new references on your new application.
You will need to complete a new questionnaire, resubmit your certifications, and select your desired role(s) and session(s) from the list. Then press Submit! After submitting an application, we will be in touch with you about your placement. Please contact our Volunteer Coordinator, Megan O'Meara at megano@thepaintedturtle.org for information about signing up as a return volunteer.
Question not listed?
Please contact Megan O'Meara, Volunteer Coordinator, at megano@thepaintedturtle.org or call 310-451-1353 x108.